CB changed FUFF to Blog Stalk Friday. Jeeze...just when I could remember FUFF, it's now BSF. Whatever, on with the show...
It was time for my yearly physical, and as usual, the Doc. ordered lab work, blood work, and other shit.
After taking my blood,
Which BTW, why in the fuck do you need 8 goddamn tubes worth? Is Team fucking Edward running the goddamn lab now?
Anyway...The nurse handed me a piss cup and said Doc ordered a urine test too, so I headed to the restroom.
Now, you all know I have mad Ninja skillz, but not many people know that I also have piss test skills too. Since I've been on probation and parole before, I've peed in more goddamn cups than Lindsey fucking Lohan.
I've perfected the skill of aiming without looking and for the guys out there? It's a completely different story when you have a twat. We can't just stick it in the cup and let fucking fly. We have to carefully hold the cup so that our stream, at the very fucking least, hits the side of the cup and runs down. Fuck this up and you walk around with pissy goddamn panties.
Add that to having to hover over the damn toilet (because you don't sit down and then put the cup in place or you end up accidentally touching the fucking toilet water and just, eww, cut my whole fucking arm off, please) and trying to keep your damn dress from getting in the line of fire and you have one tricky fucking dance that takes mad skillz.
I lifted my dress, dropped my thong, and guided the cup into the piss zone. Even though I'm sure I'm in the right spot, I slowly begin to pee just in case.
jesus fucking christ on a cupcake!, I felt the warm piss hit my motherfucking hand. I clenched, stopped the piss flow and readjusted the fucking cup. This cup must be small," I told myself. After making some minor corrections, I relaxed and once again, started pissing. Again, warm piss trickled down hand.
"What. The. Hell." Is my goddamn pussy crooked? I tried a third time, adjusting the cup to where the pee should be coming from. This time, there was no stopping the stream of piss and I gritted my teeth in disgust as I pissed all over my motherfucking hand, the toilet seat and the floor.
When I was finished, I sat down on the toilet and looked at the goddamn cup up to see if any piss got inside.
Well, fuck me. I forgot to take fucking lid off.
I really shouldn't drink before going for these fucking tests.
Then, I noticed that the label on the cup was paper. Just fucking Fabulous. Any other time, it was written on the cup with a goddamn permanent marker. Nope! Not this time.
I tried to wash off the cup and that drenched the fucking paper label, causing it to start peeling off. You couldn't even read my goddamn name anymore.
I whipped that piece of shit cup into the garbage and washed my hands with scalding water. After cleaning the seat and floor and washing my fucking hands, again, I opened the door and called for the nurse.
"Um, I need another pee cup."
"What happened Dutchess?"
"I...I sat on this one. Um...Broke it."
"You sat on it?"
"Yep. Snapped the piece of shit right in half."
"Ok. Just give me the broken one and I'll get you another."
"I can't. I threw it away."
"Oh, well I'll just come in and -"
"Why?"
"We have to account for all medical supplies. I just need to document it."
"So, write it down. This isn't a fucking drug test. I just need another goddamn cup."
"Well, if you could just-"
"OK NURSE RATCHED!! I pissed all over it and tried to wash it off and now it's fucked up, CAN I JUST HAVE ANOTHER GODDAMN CUP?"
"Oh. Yes..um sure...one sec."
I bet there is no fucking piss cup count. The bitch just wanted to make me fucking admit it. Fuck You Nurse Ratched.
Now, go check out the rest of the kick ass people who participate in
fuff
Blog Stalk Friday.
This is not for the weak and timid. Twat waffles need not click.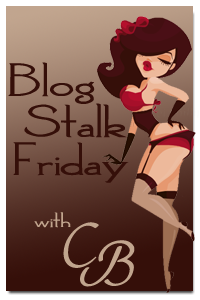 It's Friday, BEER ME!!!