First, thank you all for stroking my.......... ego a bit. Y'all make me all warm & fuzzy inside... Or maybe it's the 5 rum punch drinks I've had. Whatever, either way, it feels nice.
Dammit, now I have to sit myself on the naughty step because my imagination is out of control. (yes, I watched Supernanny! Fuck you! Friday TV is for shit.)
On with the show.
It's Sunday, and that means it must be time for....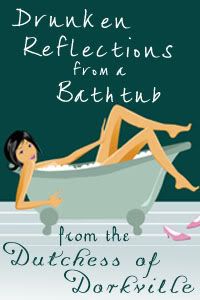 I watch a lot of those crime shows...48 hours, CSI, Law & Order and etc... I could make it look like fucking Tinkerbell killed you. Just sayin'
Sometimes I just want to tell my Sister in law that I hope she gets diarrhea and can't get her pantyhose off.
Some people fall right the fuck off of the ugly tree and land in the stupid bush.
I need someone to help me find my weekend. One minute it was here, and the next it just up and disappeared. Bastard!
While skipping through the castle today, I started to sing "You are my sunshine, my only sunshine"...then I realized, NOPE, it was just the Xanax talking.
Therapy helps, but yelling obscenities is cheaper and fun to watch how people react.
My dream job would be driving the fucking KARMA bus.
Maybe I could get away with running around hitting people in the face with a stick while screaming, "FOR THE LOVE OF ALL THINGS BEER-A-LICIOUS GET A GODDAMN GRIP YOU FUCKSTICK!"
If you say everything happens for a reason, one more time, don't be fucking shocked when I punch you in the goddamn throat and say "It must have happened for a reason, asshole".
The flying monkeys refused to take me somewhere exciting. I shall now feed them to the goddamn gators.
I'm taking the Spawn of Satan back to the hospital. They forgot to install the teenage mute button.
My fortune cookie said my life will be peaceful and happy. Ok, who gave the good drug to the fucking cookie?
Duct tape... makes me smile just thinking about it.
I wonder what would happen it I ran through Burger King screaming, "I'm the other white meat!"
Strap-on is no-parts spelled backwards. Coincidence?
And this whole post? was just more proof that a box of wine contains more philosophy than all the books in the fucking world.